Surfing Lessons
Surfing Lessons in Laguna Beach, California. Goff Tours offers professional surfing lessons all year long. All equipment is provided
My Name is Goff, I have 48 years of surfing being in the ocean and have over 25 years of teaching experience. Taking a surfing lesson from an experienced instructor is very important. This person should have patience and high volume surfing skills. Most of all, proper equipment. Most surf instructors only teach the basics depending on thier experience. Goff Tours teaches timing and techniques. I solidify your stance and confidence, that's why I stand out among the rest. Finally, I have surfed all over the world, surfed more waves and have more surf knowledge. I am Laguna Beach Longboard Champion 2 years in a row 2015 and 2016, plus I have taught more students than all other Local companies combined. For more information please check out my YouTube channel for Videos for people like you learnig to surf @Goff Tours
| | |
| --- | --- |
| Private surfing lesson | $110 for 1 1/2 hrs |
| Semi-private (2 or more) | $90 hr. per person |
LARGE GROUP LESSONS AVAILABLE (pricing on request)
All inclusive – board, wetsuit, instructor
Bring your bathing suit,towel, and a smile, I'll do the rest!
Pictures or video of session is offered upon request.
The Series of ( 5 ) Surfing Lessons will expire after 6 months of payment and must be used in that duration.
Gift Certificates will expire 1 year after date purchased.
All Sales are Final.
(Additional $25.00 Fee for DECLINED Credit Card)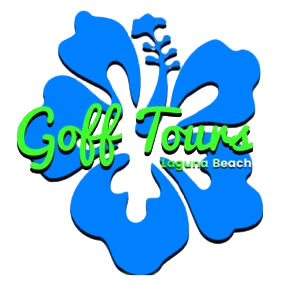 Goff Stepien
Phone: (949) 338-5937
or (949) 715-4120
Book Now